I got some questions about how to put together the automatic watering system I posted about yesterday. Here are the links to similar products on Amazon. I could not find the exact same product, however they should do the job just fine.
It turns out there are very many different "water computers". The simplest I could find is the "Gardena 1860 Classic 3-Cycle Water Timer T 1030 Plus - $83".
---
Then there is the drip systems. These includes a thin supply pipe of 5 meters (which you will cut to fit your needs), the drip heads (usually 15-20 pieces) , and small plastic pegs to stick into the soil in the flower pots. There are very many boxes for this as well, and some of them even claim to include the watering computer. On Amazon, the product description says all of them do, however, I suspect that is a copy/paste mistake, and that only the most expensive of them (USD ~100) includes a computer as mentioned above. At least that would match the pictures on the boxes.
Gardena 1399 Micro-Drip Multiple Application Drip Irrigation Starter Set - $40

---
Gardena 1402 Micro-Drip Starter Set For Flower Boxes - $40
(I think this might be the one I got).


---
Gardena 1398 Micro-Drip Watering Starter Kit With Timer - $100

Looking at the picture and the price, this is mostly likely the only kit which actually includes the watering timer / computer as well.


---
Gardena 1403 Micro-Drip Starter Set For Greenhouses - $90

---
If your system is outside, there should be no problem plugging this into your garden water supply, and you're done. However, if you set it up inside, you want to limit the amount potential water spill. So you'll need a water container of some sort. 10 liters should be fine, and make sure it has a tap as shown in the picture below. Also, make sure the nozzle on the tap is long enough, so that you can attach it to a hose or quick connector.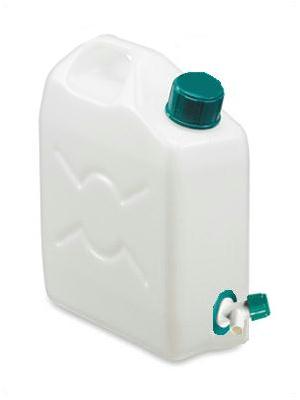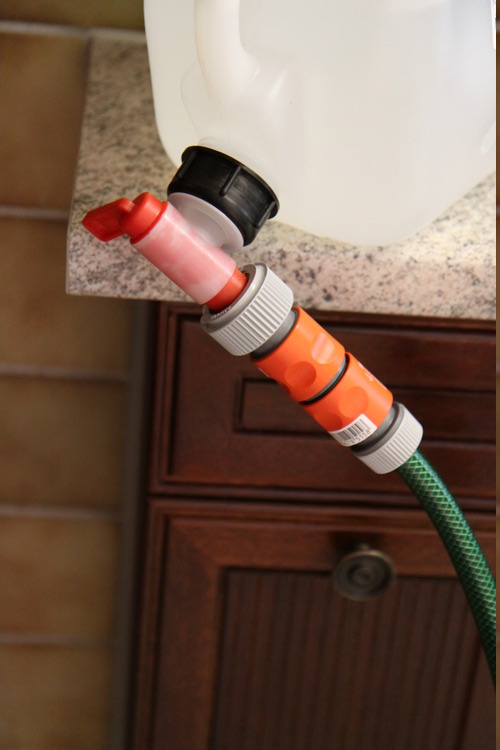 ---
Finally, to connect it all together, I used a garden hose between the water container and the computer, as seen in this picture. I needed three of the orange hose quick connectors: One for each end of the hose, and one (in my case the larger version) for the water container nozzle.

---
And very finally, to connect the hose to the water container, which now had two orange "female" quick connectors, I needed a male-male piece. I cannot find the exact product right now, but it was something similar to the picture below, but in grey.