Linux compatible notebooks and laptops
You'd think that there would be a sizable market for a Linux based laptop, but Microsoft maintains its stronghold, and if anything it's getting harder to buy random hardware and expect it to just work. Due to the UEFI bootloader; Secure Boot; various proprietary buttons solutions; touch screens; and no or little support from the hardware vendors. After doing a bit of research in small and mid-range notebooks and laptops that works with Linux, here's a brief summary.
Most of the newer devices were evaluated with a USB live version of Ubuntu 16.10 64-bit.
(Disclaimer: This is not meant to be an exhaustive list of all available brands or Linux compatible devices. Please take it as a snapshot in time of the laptops which happened to be available in my local market. Also note, beyond being a consumer of some of the mentioned laptops, I'm not affiliated with any of them).
Lenovo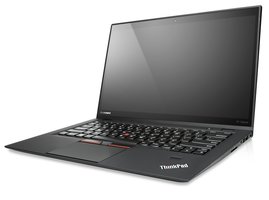 The Lenovo Thinkpad is still top of the line when it comes to business laptops. After using the Carbon X1 2016 4th generation edition for about half a year, it's a sure all-time favorite. It's available with Intel's 7th generation Skylake CPU at various speeds, it does not get warm and uses little battery, which again makes for long battery life. A full working day without carrying a charger is usually not a problem.
Any Lenovo Thinkpad you'll pick up will support Linux easily. It has a huge community and following, which means drivers, special buttons, sensors etc. get support quickly. The exception might be some of the more exotic variants of the Yoga Book (which run Android). In general, booting and installing any version of any GNU/Linux distribution is not a problem.
The downside is of course the price. At 1500 to 2500 Euros, it can be a tough pill to swallow if you're buying new. However, there is also a healthy used-marked, so if you're willing to wait a bit longer to get the latest tech, it's a good compromise.
Asus
In hardware circles, ASUS is perhaps more famous for their high quality motherboards, but they also have a healthy range of laptops, many of which support Linux. I looked at a few models, with the ZenBook as the clear winner.
ZenBook UX330

These are nice! In fact, there's a wide range of configurations colors and prices, most with 13.30" full 1080HD screens, some with touch screens or larger screens. The cheapest version is now around €750 for an Intel m3-7Y30 dual core (4 threads). At only 4.5 W TDP, it does not get warm and is fan-less. It comes with 8 GB RAM and 128 GB SSD which is decent. Best of all, it's only 1.3 kg, so just as light as the Lenovo Carbon.
There seems to be a few different BIOS versions on these models. The traditional text-based BIOS had no problems booting the Live USB. However, with the UEFI version, a bit of fiddling with Secure Boot and Boot Priority was required. Turning off Secure Boot and making sure USB partition was marked with a "boot" flag fixed it. (Spoiler alert: I'll get back to this in a another post, as I already bought this machine).
Furthermore, on Ubuntu 16.10, everything works out of the box: Wifi; suspend; all function buttons: volume; screen dimming; flight mode; touch pad enable/disable. Battery life looks promising at around 10 hours.
The higher end versions, with i7 CPUs; 16 GB RAM; 256/512 GB SSD are probably the closest competitors to Lenovo's light weight laptops at the moment. At about 25% lower price, they might certainly be worth considering.
R105HA
The Eee line from a few years back were nice super-small "ultrabooks", albeit somewhat under-powered by today's standards. A more recent edition, the R105HA is a €240 2-in-1 11" detachable table and keyboard. It has a USB A slot; it booted to the GRUB menu, but failed to load the Live UI. It could be that it's not a x64 based CPU at all; not sure.
E402SA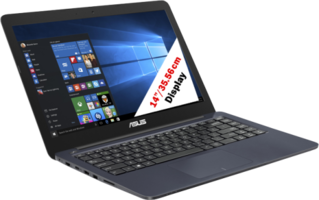 A bit further up the range, but at similar price there's the E402SA. It's a 14" laptop, with full sized keyboard, but only 2 GB RAM and 32 GB SSD. Still not bad for €280. It booted the Ubuntu live stick fine. Wifi; volume buttons; suspend works. Screen dimming works, but not through the function-buttons. The main downside is the cheap keyboard, where the SPACE-key is hinged in the middle, so it might not register a thumb-click in its corners.
PEAQ
I'm not familiar with this brand, and it could be only a label on generic OEM devices of some kind. However, I thought it was worth including, since they had the cheapest smallest notebook I came across.
PNB C111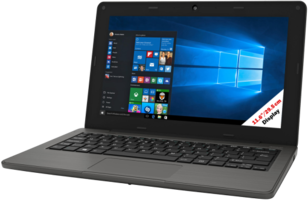 This is an 11" but full 1080HD laptop with a tiny keyboard; think early Asus Eee. The €180 version comes with an Intel Celeron N3060 CPU; 2 GB RAM; 32 GB SSD. It is light, but feels plasticy. And as mentioned, the keyboard is cramped, even for small fingers.
It booted the Ubuntu 16.10 64-bit live image fine, and wifi; volume function keys and suspend all work out of the box. Screen dimming also works, but not through the function buttons (this seems to be a common problem).
Other
HP and Dell
There were a few HP and Dell laptops in the shops I went to, but where I tried, none of them would boot the USB image. This could be down to bad luck; the Asus Zenbook was also difficult in UEFI mode, however, I'm not sure they are good options at higher prices than the Zenbook range.
System 76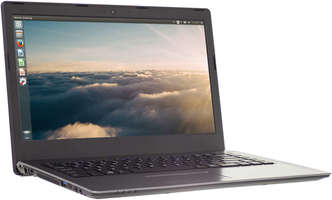 This is one of the long time dedicated Ubuntu Linux hardware retailers. They don't make their own hardware though, and instead merely put their name on OEM devices. The problem is, as much as I'd like to support a Linux hardware vendor, it comes at a very high price for mid-tier hardware. Of course, they put extra effort into making sure the drives are all available for their products, including keeping their own driver package repository running, but I'm not sure it's worth it.
The version I have experience with and bought was the "Gazelle Professional" for some $1300. (New edition here). It works and has been running for five years, it's nice, but extremely heavy even for its time. At some 4 kg with the charger, it can no longer be considered portable. The newer version in the picture above is the Lemur, at 1.6 kg and starting price of $700.